New vote by mail law will increase voter access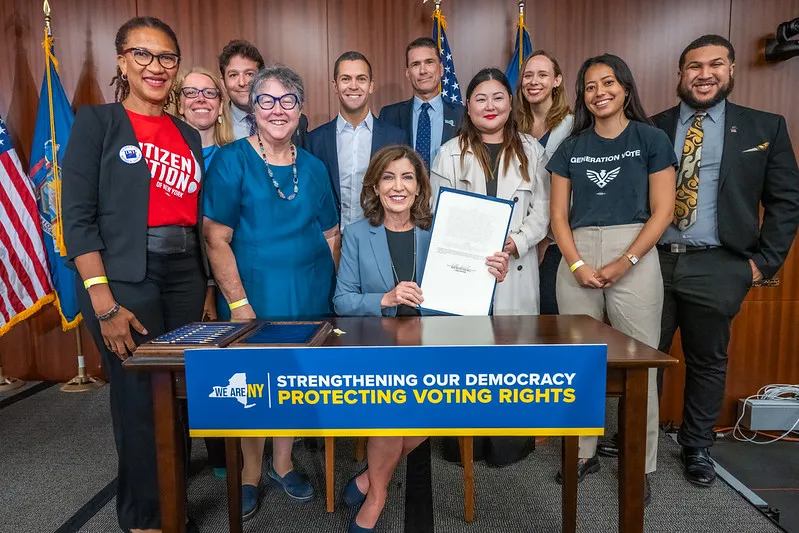 Wednesday, Gov. Hochul signed the New York Early Mail Voter Act as part of a package of legislation aimed at strengthening access to the ballot in the Empire State. This legislation, sponsored by state Sen. Mike Gianaris and Assemblymember Karines Reyes, cements New York's status as a national leader in the fight to expand voting rights and strengthen democracy.
As the former senior advisor to the New York attorney general and someone who has personally worked on many get out the vote efforts in New York over the last 20 years, I have seen first-hand how the state has made it difficult for voters to exercise their freedom to vote in the past.
In 2016, in response to an unprecedented number of voter complaints during the presidential primary election, the attorney general's office conducted a statewide investigation and issued a report recommending numerous reforms to our state's election laws. In recent years — thanks to leaders like Hochul — we've finally begun to turn the tide and implement some of those reforms.
Policies like early voting, online voter registration, and now mail-in voting are expanding the franchise to ensure that every eligible New Yorker can make their voice heard.
The New York Early Mail Voter Act creates a process where any registered voter in our state can request and cast an early mail ballot. The passage of this legislation comes on the heels of the Brennan Center's recent report finding that 94% of in-person early voting sites were not fully accessible to people with disabilities. Now, any voter who needs, or simply prefers, to vote by mail will have the opportunity.
By giving voters more ways to vote, voter turnout in New York will increase — especially among voters with disabilities, elderly voters, those who work busy schedules, have child care responsibilities, speak English as a second language, or simply need more time with their ballot. Thanks to strong leadership by the bill's sponsors, the law passed in time to take effect on Jan. 1, 2024, which means voters will likely be able to vote by mail in next year's presidential and congressional elections.
Over the past two election cycles, we've seen New Yorkers take advantage of vote by mail when given the option. In 2020, during the COVID-19 pandemic, the Legislature created a temporary option to vote by mail based on fear of contracting or spreading COVID-19.
Thanks to the COVID-19 exception 1.7 million New Yorkers successfully voted by mail in presidential and down-ballot races — five times as many New Yorkers voted by mail in 2020 than in 2016. But after the COVID-19 exception for absentee voting expired at the end of 2022, a vote by mail option was no longer open to all New Yorkers.
In addition to increasing turnout, voting by mail will also reduce polling place lines and ease administrative burdens on election officials. As other states have found, increasing the number of voters casting mail ballots can also decrease total election administration costs. Decreasing total election administration costs is critical as the fight for adequate election funding from the federal government continues in Congress and more and more threats are made to poll workers across the country.
For these reasons, New Yorkers and Americans across the country broadly support vote by mail legislation. In fact, national polls suggest that 65% of Americans support voting by mail. During the legislative session, we witnessed New Yorkers' enthusiasm for vote by mail legislation. Stand Up America's thousands of New York members drove more than 1,600 calls and emails to lawmakers in just eight days to support the New York Early Mail Voter Act.
With the new law, New York joins 35 other states that allow any registered voter to vote by mail, either early or on Election Day. The law continues the important work of the New York Voting Rights Act, a landmark piece of legislation that Hochul signed in 2022 to expand language access and help prevent racial discrimination at the ballot box.
Stand Up America was proud to work with local and national partners, such as the Institute for Responsive Government, Make the Road New York, National Action Network, Common Cause, Generation Vote and Citizen Action to help pass the New York Early Mail Voter Act. We look forward to working with the governor to ensure election officials begin implementation as soon as possible before the 2024 elections.
Now is the time to invest in voting accessibility. It is critical that New York leaders are doing everything they can to make it easier to vote — not harder — and that starts with the New York Early Mail Voter Act.
This op-ed was originally published in the New York Daily News.