These States Are Leading by Example on Rights Restoration in 2023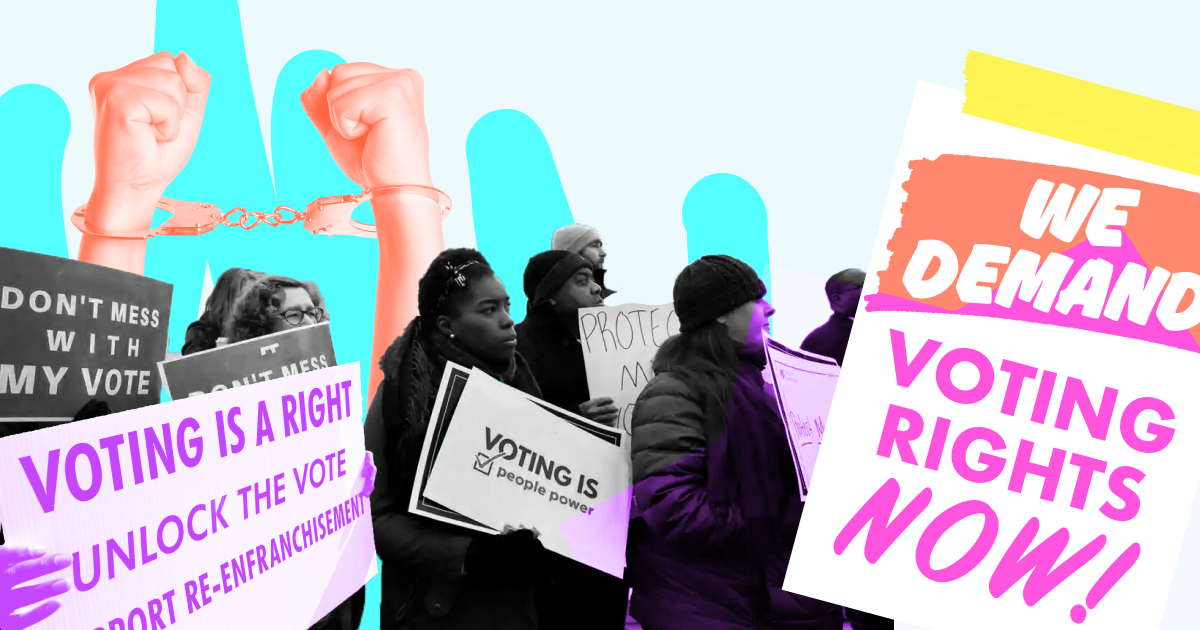 Making sure every eligible voter has a chance to participate in our democracy is crucial—and rights restoration is a huge part of that. Every election, 4.6 million Americans are disenfranchised by state laws that prevent people with felony convictions from voting. An even greater number do not vote because they mistakenly think their voting rights have been stripped away by these laws.
Some MAGA Republicans are more interested in punishing people who try to vote than helping people with prior convictions figure out if they are eligible, like Governor Ron DeSantis signing a bill that made it easier to prosecute so-called election crimes, even when citizens were told they were eligible to vote by government officials. But this isn't what the American people want. Half of voters support guaranteeing the freedom to vote for all citizens 18 and older, including those with a felony conviction. 
The good news is that other states are stepping up to the plate. Stand Up America has been helping to ensure that incarcerated and formerly incarcerated people can advocate for themselves and their loved ones across the country.
WHERE WE'VE WON
This year, we've seen big wins in the fight for rights restoration, drawing us closer to a fully representative democracy.
MINNESOTA
Minnesota has been leading the way when it comes to expanding democracy. After securing a democratic trifecta, the state's legislature wasted no time in getting important legislation passed and then signed by Governor Tim Walz. In April 2023, thanks to a decade or more of work by local activists, Minnesota legislators restored voting rights to people on probation and parole, touching the lives of over 55,000 Minnesotans and their families. Then they passed the Democracy for the People Act, which will add another 450,000 eligible Minnesotans to the voting rolls through automatic voter registration.
NEW MEXICO
Thanks to the tireless advocacy of partners like Organizing in the Land of Enchantment (OLÉ) and Progress Now New Mexico, at the end of March 2023, the New Mexico Voting Rights Act was passed then signed into law by Governor Michelle Lujan Grisham, fundamentally transforming New Mexicans' freedom to vote. Among other reforms, this legislation will restore voting rights for the more than 17,000 New Mexicans locked out of the electoral process by discriminatory felony disenfranchisement laws. 
These victories build on past successes in states like New York and Connecticut, where Stand Up America members drove thousands of calls and emails to help permanently restore voting rights to formerly incarcerated people with felony convictions.
WHERE WE'RE STILL FIGHTING
There are some states that are pushing the envelope even farther. Currently, only Maine, Vermont, Washington, D.C. and Puerto Rico allow citizens to vote in prison regardless of their conviction status. Illinois and Oregon are getting closer to expanding voting access to citizens who are currently incarcerated.
OREGON
Oregon has been on the cutting edge of democracy expansion for years, and this year is no different. The legislature is considering SB 579, a bill that would allow incarcerated people to register to vote, update their voter registration, and vote in the communities where they lived before they were in prison. However, Senate Republicans have been on a weeks-long walkout, preventing the state legislature from passing any bills so far.
ILLINOIS
In May, the House Ethics & Elections Committee held a hearing for voting in prison legislation. By the time the hearing was convened, members of the Stand Up America community sent in 600 of the 1,200 witness slips submitted in favor of the bill. But despite the show of support at the hearing, HB 39 isn't expected to pass before session ends this month. But the fight isn't over yet! The bill could still move later this year.
Fighting for democracy means fighting for the rights of everyone, including those who are currently or formerly incarcerated and those with felony convictions. It's up to all of us to work towards a system that lets those imprisoned advocate for themselves and their families.